Zombination Day 2.014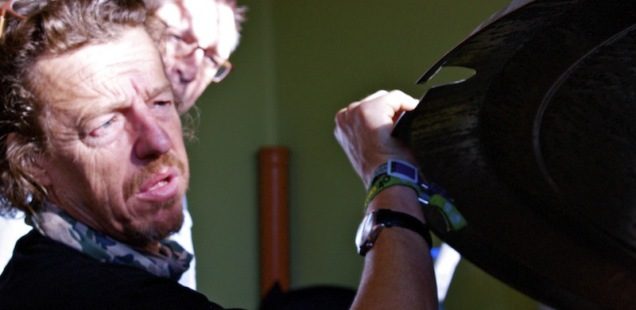 'Zombination': A Beer Brewed at De Struise Brouwers by 9 of Europe's Most Exciting Breweries
What if 9 of the most exciting breweries in Europe came together for a special collaborative brew?
And what if that brew took place in a small schoolhouse only a few miles from the Flemish brewing strongholds of Westvleteren Trappist Abbey and the powerhouse of St Bernardus?
And what if that beer was an Imperial Stout of 17% a.b.v. on first fermentation which would be barrel aged in oak casks for a minimum of one year?
Would you believe it? Would you be interested in a beer like that?
Well, that happened. On 17 October 2014. I know. I was there.
'ZOMBINATION': WHY THE NAME AND WHY THE BEER?
The story begins with Gabriel.
As an enthusiastic and talented beer blogger in Spain, Gabriel Bocanegra wanted to give those who followed his blog the opportunity to buy the beers about which he was writing.
He opened an online beer store and called it Zombier.
But he didn't want to sell just any old beer. He wanted to work with breweries he admired. Beers he respected. Beers of high quality. Beers made with craft.
He started to pull some pretty impressive breweries together. Small breweries. Progressive breweries. Breweries that were doing things a little differently. Soon, he had amassed quite the portfolio.
De Struise Brouwers and Brouwerij Alvinne from Belgium. Magic Rock, Beavertown and Brodies from the UK. Kees Bubberman (formerly of Emelisse) and De Molen from the Netherlands. Haandbryggeriet from Norway. Naparbier from Spain. They were all there in Oostvleteren. To beer geeks, a brewing collaboration between such a list was the stuff only of dreams. Until now.
Gabriel's Zombier craft beer distribution business is now three years old. Its first and second anniversaries were celebrated in Barcelona at The Drunk Monk and BierCaB respectively. This year, it had to be Belgium.
Essentially then, Zombination is a birthday beer. It's a gift to Gabriel from the breweries which Zombier has supported and helped grow over the last number of years. It's a thank you. And that makes it quite a beautiful story.
It's also a stroke of distribution and marketing genius from the breweries involved and from Gabriel and his staff at Zombier. Who the hell wouldn't be interested in a beer made together by some of the most exciting breweries in Europe?
Logan Plant, Founder and Brewer at Beavertown Brewery, acknowledged how special the event was: "For me collaboration is about learning and having fun. We love to brew with fellow brewers, taking a concept for the brew and creating a beer. To be invited to De Struise was an honour. I learnt so much about Belgian styles, ingredients and technique. I also made some great new friends and that's what it's all about."
Jonny Bright, formerly of Brewdog and now Head Brewer at Brodie's Beers confided in me how much personal satisfaction he gained from the collaboration: "My journey into good beer started with Trappist Rochefort 8 many years ago. Since then I've tried as many Belgian beers as possible. So when you get asked to be involved in a collaboration brew with a Belgian brewer, let alone with someone as awesome as De Struise, you just say YES!"
WHAT THE HELL TYPE OF BEER IS 'ZOMBINATION'?
Given the grandiosity of the occasion and the gregarious nature of the brewing personalities involved, it was only natural that the beer itself would be epic.
It's an imperial stout which rounded out at 17% a.b.v. on first fermentation and which is currently maturing on oak for at least a year.
One extremely interesting ingredient used was honey – a highly fermentable adjunct which contributes sugar and thus boosts the gravity of the beer. It also offers the brewers the possibility of subtle floral notes, not a surprise when you think of the various pollens and nectars in honey's creation. In some cases it is known to also tone down bitterness without killing your hop character.
Each brewer involved arrived at De Struise's schoolhouse with their own honey, some homemade, others sourced in the locality of their brewery. The variety of sizes and types of jars and containers was a true reminder of the artisanal nature of what was going on. These honey collections were then divided so that each brewery could take away samples of the other honeys enabling them an attempt at replicating the brews in their respective facilities.
Stuart Ross, Head Brewer at Magic Rock Brewing, reflected on the development of the beer: "It's great to have all the different brewers together in one place to talk and share experiences and ideas. The idea behind the brew is very interesting, creating a recipe that all the brewers will be able to brew back at their own breweries."
It was with the addition of the honey that the collaboration became interesting. I observed some fiesty discussions as to the amount of honey that should be added. It wasn't so much a disagreement as what I believe might have been some playful 'brewmuscle' flexing.
It seems that Zombination will follow in the footsteps of De Struise's Black Damnation series, being aged in a variety of casks for at least one year to produce 7 different beers. Zombination I will be the first release. The series will finish with Zombination VII.
As I understand it, the casks used will include, among others, those from Porto, Malaga, Jerez, Caol Ila and Woodford Reserve. De Struise will have the final say on how much time Zombination will spend in the casks and Urbain Coutteau will take ultimate responsibility for blending before the creations are bottled.
A FAMILY PARTY (WITH LOTS OF BEER)
The wonderful weather, speciality snacks of delicious Spanish Jamón and their joyous sharing of some infamous beers endowed the whole collaboration with a party-like atmosphere. Sven Bosch of Naparbier summed it all up to me: "You know what happens when so many good friends and beer lovers come together? Yes, they start drinking and sharing good beers, and having a good time."
Gabriel himself was keen to stress to me that it was really like a family birthday. "For us this weekend at Struise was really special, not only for the beer and the collaboration brew with all the brewers, but for us visiting Struise is visiting our family in Belgium. We feel at home there with Urbain, Carlo, J, and the rest of the team. Sharing this with friends all around Europe is simply amazing."
Jonny from Brodie's agreed that he was delighted to be involved for many reasons: "The room full of amazing brewers from all over Europe, the beers we drank, the food, but most of all our good friends from Spain – Gabriel & Ivan from Zombier. I've only known these guys for about a year but they are crazy and I love them!"
When the gathering of so many highly respected European breweries hits the grapevine, the beer loving public can get excited. But Gabriel assures me that it was more fun than festival: "Some people called me asking about this festival. Festival? It's not a festival. It's only some friends sharing some beers and a BBQ in a Belgian brewery."
Wearing their respective national stereotypes on their sleeves and embracing the diversity of each other's brewing personalities, everyone in attendance actually spent the whole weekend together in a house in Diksmuide with what I can only guess were scary proportions of rare artisanal beers.
John Brus from De Molen summarised the vibe wonderfully: "Someone must have paid the Gods a good deal of money. We had an October high temperature record! But the beers were even better."
And Jonny hinted to me that there might be other projects in the future between all of these illustrious breweries. "It was a great weekend and I hope we can be involved next year, we're already making plans for something special in London. Keep your eyes and ears open!"
But the question remains: Will Zombination be any good?
I guess we'll have to wait and see. Seven times.
Text & Pictures from Breandán Kearney www.belgiansmaak.com